About This File
English Translation: Vijay K. Jain; Editor: Vijay K. Jain
Divine Blessings: Ācārya Viśuddhasāgara Muni
Main Author: Ācārya Kundakunda
Other Author: Vijay K. Jain
Publisher: Dehradun : Vikalp Printers, February 2020
Subjects: Jainism – Doctrines – Early works to 1800; Jaina Philosophy – Early works to 1800; Jaina Metaphysics, Merit, Demerit, Karmas, Influx, Bondage, Liberation
Description: lxx + 358 p. ; 24 cm x 17 cm
ISBN: 9788193272657
Format: Book; Hard-bound
Language Note: Prakrit, Sanskrit, Hindi and English; explanatory notes and prefatory matter in English.
Pańcāstikāya-samgraha or Pańcāstikāya-sāra (known briefly as Pańcāstikāya and spelled commonly as Panchastikay) is one of the four most important and popular works of Ācārya Kundakunda (circa first century B.C.), the other three being Samayasāra, Pravacanasāra and Niyamasāra. The original text is in Prakrit language and contains a total of 173 verses (gāthā). Pańcāstikāya means 'five-substances-with-bodily-existence' and these are: the soul (jīva), the physical-matter (pudgala), the medium-of-motion (dharma), the medium-of-rest (adharma), and the space (ākāśa). These five substances collectively constitute the universe-space (loka). Outside this universe-space (loka) is the infinite non-universe-space (aloka), comprising just the pure space (ākāśa). The substance-of-time (kāla dravya) which renders assistance to all substances in their continuity of being through gradual changes is not an 'astikāya' since it occupies a single space-point and, therefore, does not possess the characteristic of body (kāya).
Pańcāstikāya-samgraha expounds the Jaina metaphysics – the philosophy of being and knowing – including the nature of the pure soul-substance (jīvāstikāya) which is integral to the seven realities (tattva), the nine objects (padārtha), and the six substances (dravya). While the substance (dravya) never leaves its essential character of existence (sattā), it undergoes origination (utpāda), destruction (vyaya) and permanence (dhrauvya). There is inseparable association between the qualities (guņa) and the substance (dravya). The discussion relies on the 'doctrine of conditional predication' (syādvāda) and the 'seven-nuance system' (saptabhańgī), as expounded by Lord Jina.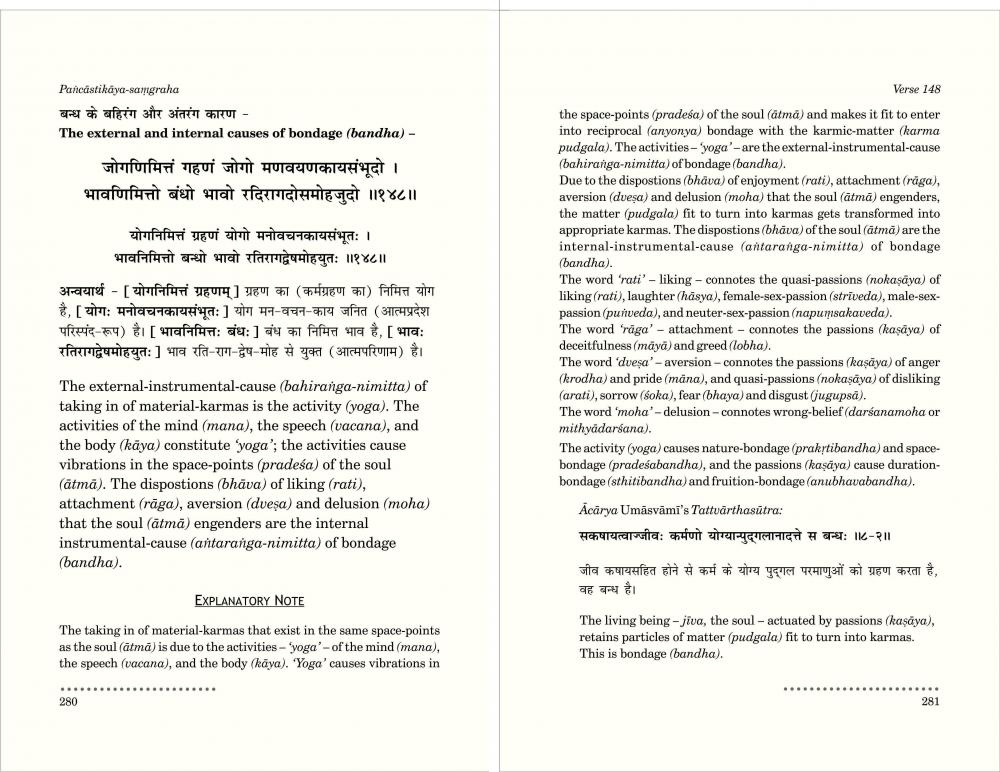 ---
What's New in Version
1.0.0
See changelog
Released
No changelog available for this version.